Alex Cropley had a distinguished playing career, beginning in 1968 at Hibernian. In 1974 he moved to Arsenal for, what was in those days a massive £150,000 transfer, and then after a turbulent couple of years applying his trade in England's capital the 173 cm (5 ft. 8 in) stalwart ended up at Aston Villa.
The midfielder retired at Portsmouth FC in 1982 but, whatever happened to the popular Hibees 'Hall of Fame' inductee?
Career stats
Hibernian – 1968 – 1974 (apps – 118)
Arsenal – 1974 – 1976 (apps – 30)
Aston Villa – 1976 – 1980 (apps – 67)
Newcastle United (loan) – 1979 – 1980 (apps – 3)
Toronto Blizzard – 1981 (apps – 15)
Portsmouth – 1981 – 1982 (apps – 10)
Scoring 41 times during his 14-year career Alex, now 67 made a name for himself at whichever club he represented.
Inducted into Hibernian's Hall of Fame in 2017 Alex made an indelible mark. And to this day his legacy is fondly remembered.
During his Arsenal time Alex, the midfield enforcer suffered two broken legs and scored five times.
Aston Villa
In September 1976 Cropley joined the Midlands club for £125,000, and it wasn't long before he was affectionally dubbed 'Braveheart' by the Villa faithful for his do-or-die attitude.
One of his highlights was when he played in Villa's 1977 League Cup final 3-2 win over Everton.
Further bone breaks, fractures, and two cartilage operations throughout his four years Villa stay permanently put paid to his top-level footballing days.
Due to persistent injuries, in 1982 his body was too exhausted to continue hence his official retirement.
Post football
His second career began when he became a taxi driver within his hometown of Edinburgh.
In 2013 Cropley authored an autobiography entitled Crops: The Alex Cropley Story.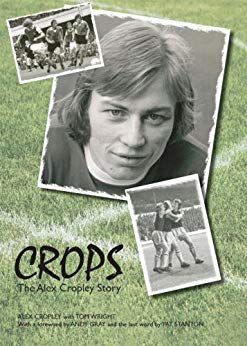 We wish Alex and his family a very happy retirement.