Signed from Falkirk FC for £20,000 in November 1969 midfielder Johnny Graham arrived at Easter Road with quite a reputation.
His no-nonsense, hard-hitting style, especially on the infamous muddy pitches brought him notoriety wherever he played.
Playing for Hibernian between 1969 and 1971 family man Johnny was happy to take part in a question and answer session with, I presume a fanzine called Focus.
Trip down memory lane
Some of his answers jogged my memory to a time when I was a mere child. I used to love watching the weekly dose of the American Western TV series, The High Chaparral and when Sean Connery was acting out James Bond in You Only Live Twice, and Diamonds are Forever.
Paul Newman, on the other hand, was a 'god-like' figure for his performances in Cool Hand Luke, Butch Cassidy & the Sundance Kid and The Hustler.
Born in Glasgow in 1945 this is Johnny Graham's playing career
Third Lanark – 1963/64 (31 apps)
Dundee United – 1964/65 (15 apps)
Falkirk – 1964/69 (147 apps)
Hibernian – 1969/71
Ayr United – 1971/77 (168 apps)
Falkirk – 1977/78 (31 apps)
Q&A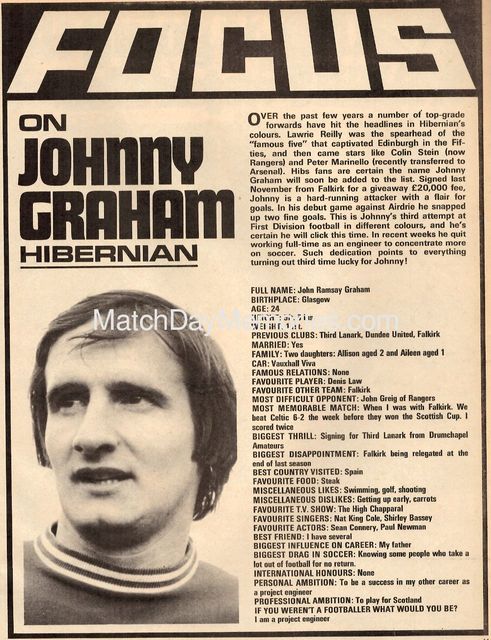 Johnny will celebrate his 74th birthday on 8 January.
When he hung up his boots, does anyone know what got up to?
Did he return to being a project engineer?
Well into his retirement where does he currently reside?